This 10.5% Yield Triple Net Lease REIT Has Too Much Risk
I recently had the pleasure of speaking with Jim Nelson, the CEO for Global Net Lease (GNL) and Chris Masterson, the CFO. Our conversation happened to fall around Mr. Nelson's one-year anniversary of becoming the top dog. He has now been in his position for a little over a year and while GNL's stock has provided a positive return for shareholders, it has trailed most of its peers over the period, including both Realty Income(O) and National Retail Properties (NNN).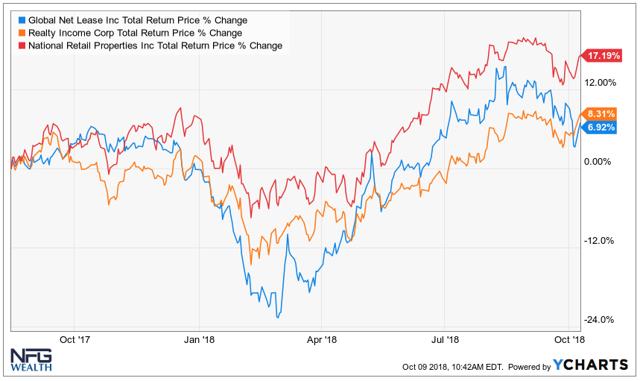 Before we draw any conclusions from the positive, but lagging short-term performance, however, I'd like to draw several analogies that sports fans may appreciate. Mr. Jon Gruden, a fantastic head football coach that for the last several years did more work in front of a camera, returned to the gridiron to coach the Oakland Raiders. Five weeks into the season and the Raiders have won just one game, an indication that it takes time to right a wrong, especially when you inherit most of your players.
The same looks to be holding true for University of Nebraska head coach Scott Frost. He departed the University of Central Florida last season as the only undefeated college football team in the country. In fact, the team he left behind has continued that streak and remains undefeated this season. But Nebraska, rich in football tradition, has lost all 5 of its games this year and hasn't looked good doing so.
Both coaches will need some time to inject their personalities and philosophies into their respective teams. And while I'm not comparing Jim Nelson to either of these proven coaches, with just one year in, he may deserve the benefit of the doubt, and a bit more time before we draw conclusions.
The REIT Sector
In recent years, the REIT sector has been experiencing rapid changes in tenant dynamics and customer demographics. The impact of online retailing has been well documented as has the changing demographics of the US population. REITs that have been able to adapt have succeeded in creating shareholder value while those that remained steadfast to their traditional business models have suffered. Today, many traditional REITs are trading well below their net asset values (NAVs).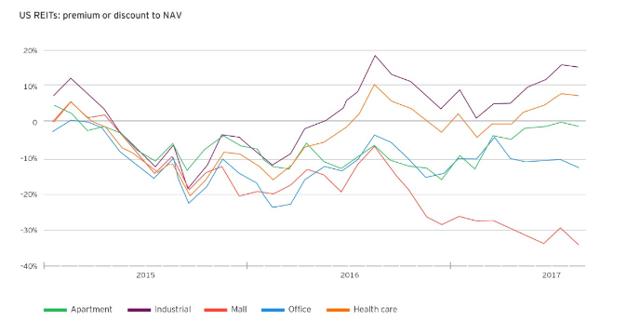 Source: EY report on Global REIT markets
There are several factors that are contributing to the depressed valuations. First, the market is discounting traditional REIT stock prices due to a number of macroeconomic trends, such as rising interest rates and tightening lending standards. Second, REITs are also being influenced by market trends and policies that are impacting tenants, such as medicare and Medicaid changes, tariffs, and tax reform.
In Europe too, the recent rise in interest rates and the continuing uncertainty around Brexit have REIT stock prices diverging from their NAV there as well. More specifically, it is the UK retail and office sector that has suffered the most.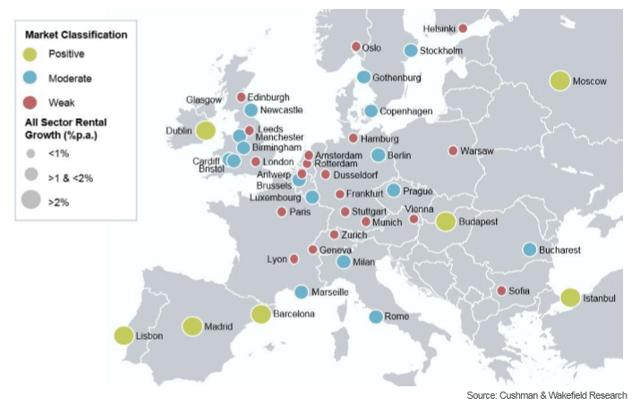 Source: Cushman and Wakefield research, 2018
While pure-play REITs in certain property types can't deviate from their strategy, many multi-property REITs are actively trying to take advantage of some of these trends by repositioning their portfolio. For example, a number of global REIT's are scouting industrial assets looking for better growth prospects and to take advantage of the rapid growth in e-commerce.
Global Net Lease
Global Net Lease Inc is one of many global REITs that has been facing many of the challenges I mentioned. It might even be more of a challenge for GNL compared to its US counterparts since it operates in multiple countries around the world, each with its own set of regulatory and macroeconomic issues. That said, the New York-based REIT is now strengthening its asset portfolio by focusing on the acquisition of industrial assets, specifically in the US.
Currently GNL has over 313 net lease commercial properties, across the U.S. (49%), and Western and Northern Europe with 35% in Industrial and Distribution properties, and the goal is to continue to increase the latter.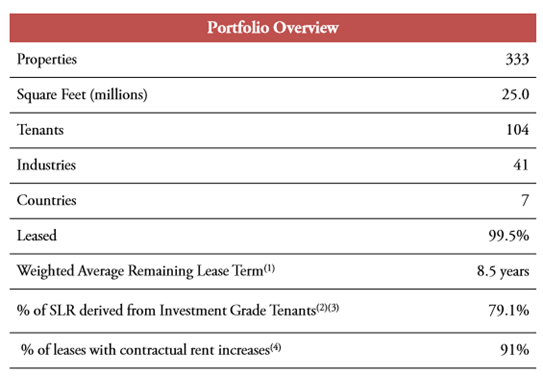 Source: Global Net Lease, August 2018, Investor Presentation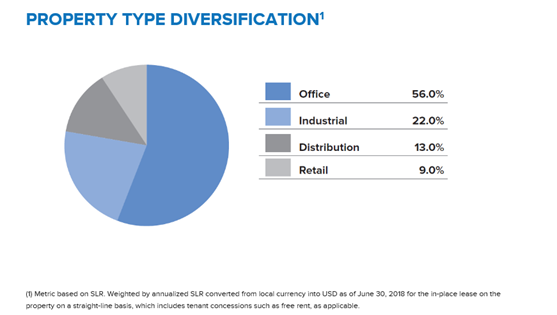 Source: Global Net Lease, August 2018, Investor Presentation
The REIT began trading in June 2015 and is managed by New York City-based AR Global Investments LLC. In fact, one of the company's biggest criticisms has been the ownership structure and the advisory agreement with AR Global. Most, if not all of the key executives for GNL are also involved with AR Global, which creates potential conflicts of interest between what's in the best interest of GNL shareholders and what's in the best interest of AR Global owners.
That's not to say there have been any suspect activities, but the appearance and potential conflicts of interest do exist. When I asked Mr. Nelson about bringing the advisor in-house, he could only suggest that it could happen when the company got bigger – but no indication of what size portfolio or company would trigger that change.
International Exposure
Within its international focus, GNL's strategy is to invest only in countries with the highest rated sovereign debt. As the table below indicates, the lowest rating on any country where it currently owns property is AA, which is the UK and France. In my conversations with management, they indicated a strong interest in Spain and could potentially acquire several properties there in the near future.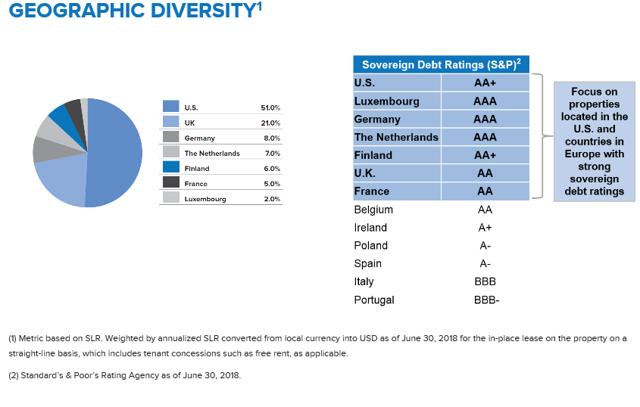 Source: Global Net Lease, August 2018, Investor Presentation
Secondary Markets & Sector Strategy
In the meantime, GNL is eyeing growth opportunities in secondary markets as companies like FedEx are expanding into smaller markets as consumer behaviour has caused logistic companies to create infrastructure that is closer to consumers. The dynamic has altered the market for industrial and logistics spaces into markets beyond the Tier 1 coastal markets where industrial properties have been so hot.
Occupancy in the sector is near record-highs and rent growth is steady. 1Q18 results have been above expectations and increasing demand indicates that the sector will be experiencing robust growth in coming years. Same-store NOI growth averaged 6.1% YoY as occupancy increased to 97%. Market rents have climbed 5-10% and economic growth appears to be reaccelerating.
As a part of its business strategy, GNL has only 9 percent exposure to retail and within that category, the retail assets owned by GNL are primarily leased to discount retailers – one of several retail categories that are less sensitive to internet sales.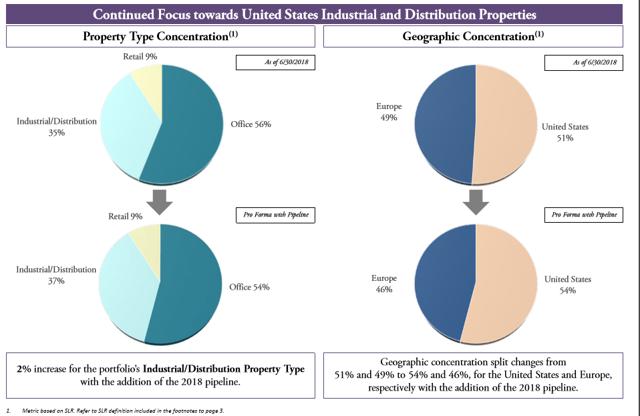 Source: Global Net Lease, August 2018, Investor Presentation
Home Sweet Home
Finally, while managing an international portfolio can be more challenging than managing one solely based in the US, the ability to shift opportunistically is one of the key advantages of implementing a global strategy. Currently, GNL is more focused on acquiring assets in the US because of the residual effects that online sales growth will potentially have on industrial assets in the country. Until now, GNL had adopted a balanced approach while acquiring properties in both the US and Europe. However, the REIT is looking to be 60-40 in the U.S. versus Europe as it is finding a lot of opportunities in the U.S. Not surprisingly.
The following table shows the directional fundamentals of real estate within several countries. The table refers to all real estate but some of the ratings are applicable to industrial and distribution properties as well.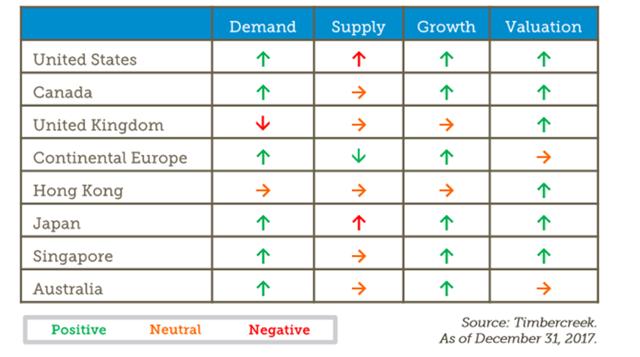 Source: Timbercreek Global Retail Securities – 2018 Market Outlook
Recent Activity
GNL's acquisition strategy has been instrumental in optimizing its asset portfolio and for increasing cash flow. In the second quarter of 2018, GNL closed the acquisition of 7 properties for $97.6 million. The properties are located within the Central United States and altogether these properties comprise an area over 1.6 million square feet. Additionally, these properties have a weighted average going-in capitalization rate of 7.59%, which is equivalent to a weighted average GAAP capitalization rate of 8.05%, and a weighted average remaining lease term of 10 years.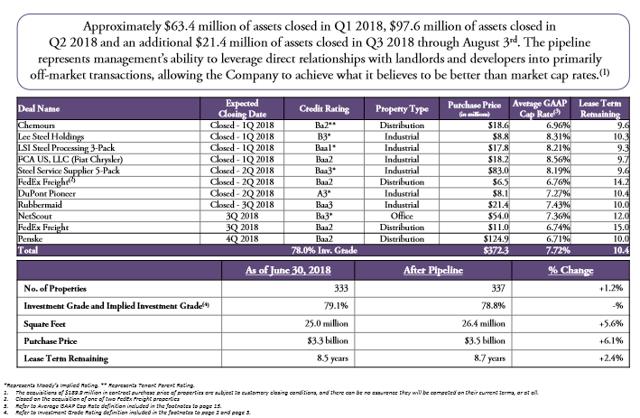 Source: Global Net Lease, August 2018, Investor Presentation
The first property is located in Blackfoot in Idaho and it is a cross-dock distribution facility that is leased to FedEx Freight. FedEx Corporation is the tenant's parent company and it has an investment grade rating of Baa2 and BBB from Moody's and S&P, respectively. The property plays an important role in enabling FedEx to fulfill its last-mile distribution, a common shift in the company's fulfillment strategy. The property was acquired at a price that equates to an average GAAP capitalization rate of 6.76% and with a remaining lease term of 14 years.
GNL has also acquired a portfolio of 5 net lease industrial properties that are leased to a leading steel service supplier whose operations are based in the Midwestern U.S. and Canada. These industrial assets have a total area of 1.4 million square feet and they are located in Michigan, Ohio and Indiana. The tenant has received an investment grade credit rating of Baa3 from Moody's Analytics.
The buildings were purchased at a price that equates to a weighted average GAAP capitalization rate of 8.19%, with the remaining lease term of 10 years. Additionally, GNL has also acquired a build-to-suit industrial distribution facility which is leased to Pioneer Hi-Bred International, Inc. (DuPont Pioneer), a leading developer and supplier of advanced plant genetics, agronomic support and services to farmers. The facility is strategically located close to the tenant's production plants and key customers. The asset was purchased at a price equates to an average GAAP capitalization rate of 7.27% and a remaining lease term of 10.5 years. At the end of the second quarter, GNL also completed the acquisition of a 669,000 square foot distribution facility leased to Rubbermaid. The property has been guaranteed by Newell Rubbermaid Inc.; a manufacturer of innovative solution-based products for commercial and institutional markets worldwide. The tenant has been rated BBB- by S&P and Baa3 by Moody's. The building was acquired at a price equal to an average GAAP cap rate of 7.43% with remaining lease term of 10 years.
Most recently, GNL has reported the acquisition of four properties in the third quarter of 2018. These properties represent 1.3 million square feet for $105.4 million. The first of these four properties, is a triple net leased 456,094 square foot corporate headquarters and manufacturing facility located in New York State. The second property is a newly constructed, Class A office building net leased to NetScout Systems Texas, LLC. The 145,000 square foot building is located in Allen in Texas and it was acquired for $54 million. The third property is a 668,592 square foot industrial facility acquired for $21.4 million and is triple net leased to Rubbermaid Incorporated. The building is located in Akron, Ohio and it was purchased with a remaining lease term of 10 years. The fourth property is a newly constructed 28,911 square foot distribution facility which was acquired for $11 million and double net leased to FedEx Freight. The property is located in Greenville, North Carolina.
The four properties were purchased at a weighted average going-in capitalization rate of 7.16%, equating to a weighted-average GAAP capitalization rate of 7.68%, with a weighted-average remaining lease term of 13.8 years. GNL funded the transactions with borrowings under its revolving credit facility and cash on hand, which includes proceeds from a public offering of GNL's common stock completed in August 2018. All the acquisitions made during the first half of 2018 along with three additional deals, serve to demonstrate GNL' strategy to acquired net lease properties that serve as 'mission critical' assets to a credit worthy tenant.
Through the end of Q3, the company has closed on $266.4M of acquisitions with an additional $134M expected to close by the end of Q4.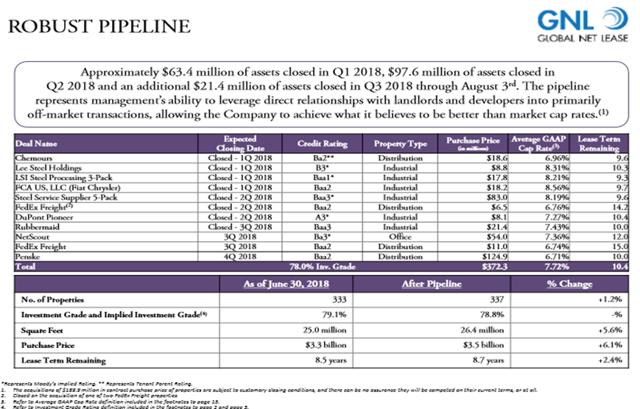 Tenant Credit Ratings – Take them with a Grain of Salt
While implementing its acquisition strategy, GNL primarily evaluates the credit quality of the tenant with the aim of having long-term leases in high-quality properties with investment-grade tenants.
Amongst its peers, GNL boasts the one of the highest percentage of investment-grade tenants but the way they measure credit ratings does have a caveat. In some cases, GNL reports an investment grade rating for a subsidiary of an investment-rated credit-rating even if the parent company does not guarantee the lease. Secondly, some tenants' ratings are an implied credit rating based on a proprietary Moodys score that is based on the credit rating of comparable companies.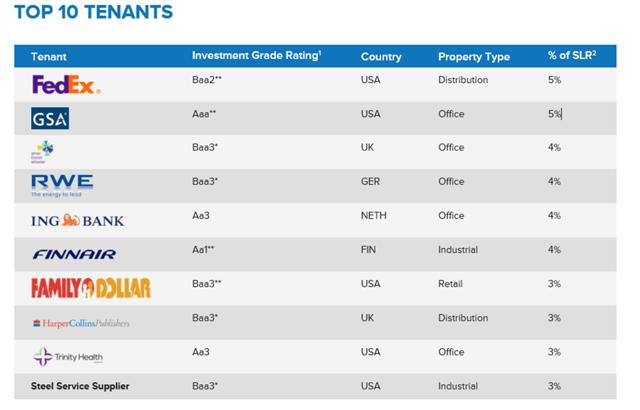 Source: Global Net Lease, August 2018, Investor Presentation
Slow and Steady Wins the Race?
GNL doesn't plan on deploying massive amounts of capital quickly or all at once so investors have to be patient. The REIT will be selectively building its portfolio in a slow and steady manner. During the Q2 2018 earnings call, James Nelson, CEO of GNL, spoke about the strategy of leveraging its strong relationships with landlords and developers as a way of acquiring assets at reasonable prices:
GNL continues to demonstrate a proven ability to source investment opportunities by leveraging direct relationships with landlords and developers to identify off-market transactions. We believe this allows the company to achieve better than market cap rate and more favorable terms that are generally available generating improved results for the company and its shareholders.
Q2 Results
GNL's Q2 2018 results demonstrates the steady performance of its portfolio and the effective execution of its acquisition strategy. The REIT's Q2 revenue was $71 million, an increase of $6 million or 9.2% over the same quarter last year. The increase in revenue is attributed to both contractual rent increases from existing tenants and GNL's ongoing acquisition activity. Throughout the first six months of FY2018, GNL acquired $161.1 million of the $307.3 million previously announced 2018 acquisition pipeline. In their first year within the portfolio, these 13 closed assets will contribute $12.6 million in additional rental revenue. GNL's investment grade or implied investment grade tenants remain strong at 79% of the portfolio, and the occupancy remained 99.5% at the end of the second quarter.
GNL's Core FFO attributed to common stockholders increased to $41 million and the AFFO decreased slightly on a year-over-year basis. However, the AFFO has increased by $500,000 in comparison to the first quarter 2018. At the end of the second quarter, GNL had $93.3 million in cash and $14.5 million available on the credit facility. It's capital structure has also continued to improve.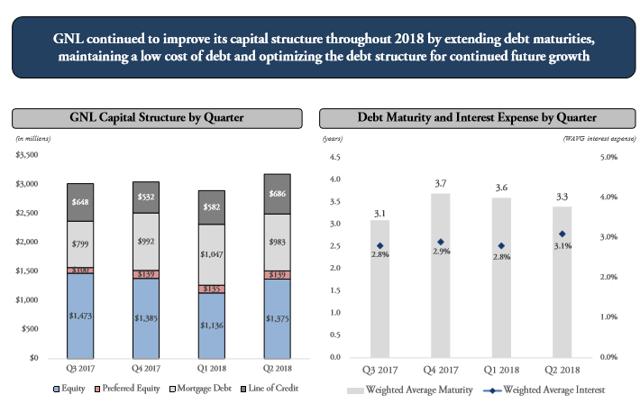 Source: Global Net Lease, August 2018, Investor Presentation
There are two things to note on the company's lease expiration schedule and forecasted revenues. As the chart on the bottom right shows, the company has yet to go through a series of lease expirations. The first lease expirations will begin in 2021 and will accelerate through 2024. The ability of the company to re-lease properties at potentially higher rates could be a boon to the bottom line. But the failure to do so is a huge risk.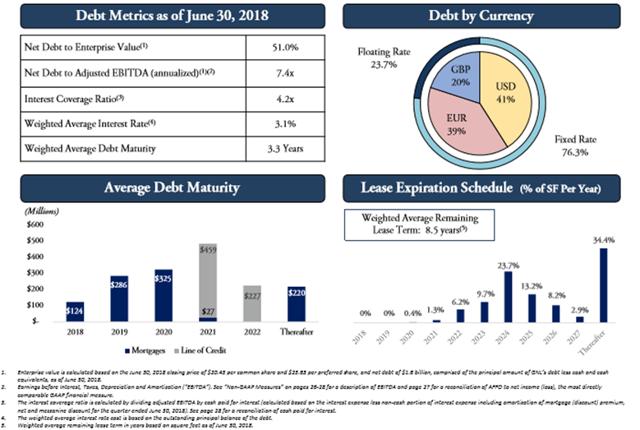 Source: Global Net Lease, August 2018, Investor Presentation
Secondly, the company forecasts future minimum rents very conservatively. A look at the following table shows future rents declining starting in 2021, the same year the lease expirations begin. Rather than try to predict uncertain lease rates or maintain the same lease rates on an ongoing basis, management told me that the future minimum rents assumes zero rental revenues from any of the leases expiring. That is quite conservative and could lead to an upside surprise in 2021.

Consistent if Not Exciting Dividends
One of my biggest concerns about GNL is that it hasn't increased its dividend in over three years. While that may be OK for some investors, especially since it's a 10.5% dividend yield, we have two portfolios that have an income objective, and both rely on dividend growth to be successful.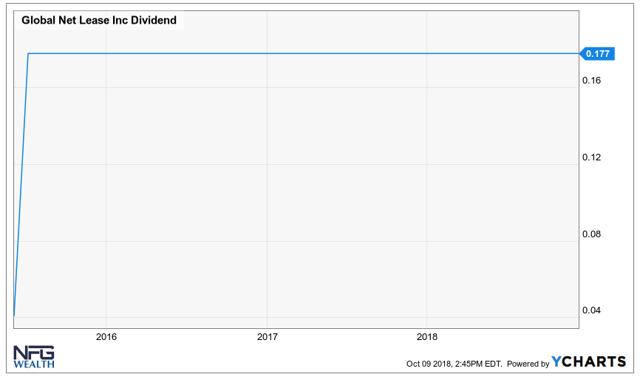 Our Take
Next year's forecasted AFFO is just $2.10 compared to FY2018 estimates of $2.06. That is less than 2% growth which confirms the unlikelihood of any dividend increases. It's not until 2020, when AFFO looks to start accelerating, and only to 4% growth. At a P/AFFO of 9.7 the stock certainly looks cheap, but it was down almost 25% in the 1 st quarter, when the Vanguard Real Estate ETF (VNQ) was only down around 10%.
From a technical standpoint, the stock also looks like its on a downward trend with strong resistance at levels just above the current price. It recently broke through support at the 50-day moving average and the 100-day moving average. Downside support is weak at around $19 and $18 and it could decline to $16.50 before finding stability. I'll admit that charts for many REITs look similar, but the downside risk for a small cap name like GNL are much greater.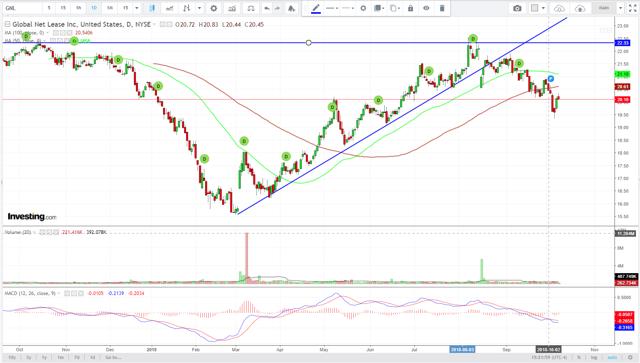 It is still early in Jim Nelson's tenure as CEO. While the company seems to be moving in the right direction, I would prefer to have some guidance regarding a plan for internalizing management. Despite a good conversation with management and a promising outlook in the intermediate term, I would urge my readers to stay out of this name for the time being.
To read more of my articles on Seeking Alpha, click HERE
Best Stocks for 2018
Looking for what analysts dubbed the best stocks in 2018? Check out our summary:
Could These Be The Top 100 Stocks For 2018? Analysts Think So
3Q Update On The Best Stocks For 2018
How to Get Started With REITs, Opportunities, & Income
To get started using the REITs, Opportunities & Income premium service, take a look at some of these articles.
How To Use REITs Within Your Portfolio – REIT Investing 101
Investing In REITs: Using A REIT Building Block
Recent Posts in REITs, Opportunities, & Income
REIT Portfolio – September 2018 – Down But Not Out
Riding The Amazon Wave All The Way Home
Ventas: 10% Upside And 5% Dividend Yield
Disclaimer: Please note, this article is meant to identify an idea for further research and analysis and should not be taken as a recommendation to invest. It is intended only to provide information to interested parties. Readers should carefully consider their own investment objectives, risk tolerance, time horizon, tax situation, liquidity needs, and concentration levels, or contact their advisor to determine if any ideas presented here are appropriate for their unique circumstances.
Past performance is not an indicator of future performance.
Investing in any security has risks and readers should ensure they understand these risks before investing.
Real Estate Investment Trusts are subject to decreases in value, adverse economic conditions, overbuilding, competition, fluctuations in rental income, and fluctuations in property taxes and operating expenses.
This post is illustrative and educational and is not a specific offer of products or services.
Information on this blog is not an offer to buy or sell, or a solicitation of any offer to buy or sell the securities mentioned herein, nor is the author compensated by any of the products mentioned.
Information presented is believed to be factual and up-to-date, but we do not guarantee its accuracy and it should not be regarded as a complete analysis of the topics or subjects discussed.
Information presented is not believed to be exhaustive nor are all the risks associated with the topic of each article explicitly mentioned. Readers are cautioned to perform their own analysis or seek the advice of their financial advisor before making any investment decisions based on this information.
Investment decisions should be based on an individual's own goals, time horizon, and tolerance for risk. Nothing in this content should be considered to be legal or tax advice and you are encouraged to consult your own lawyer, accountant, or other advisor before making any financial decision.
All expressions of opinion reflect the judgment of the author, which does not assume any duty to update any of the information
Any positive comments made by others should not be construed as an endorsement of the author's abilities to act as an investment advisor.
Disclosure: I am/we are long O. I wrote this article myself, and it expresses my own opinions. I am not receiving compensation for it. I have no business relationship with any company whose stock is mentioned in this article.