Simon Says: "We're Not Going Anywhere"
Profile
Simon Property Group, Inc. (SPG) is a real estate investment trust (REIT) that is the largest owner of shopping malls in the U.S.A. . As of 2017, the company is the biggest REIT in the U.S. and it owns about 241,000,000 square feet of gross leasable area in North America and Asia. Headquartered in Indianapolis, Indiana, Simon Property develops retail real estate properties that comprise of regional malls, The Mills super-regional malls, premium outlet centers, community / lifestyle centers and other international properties. In 2017, the company was named Fortune's 'Most Admired Real Estate Company' for a record eight year in a row.
Business Strategy
Simon Property Group primarily targets a broad-range of customers who prefer to buy high-quality branded products that are competitively priced. The company's premium factory outlets target more upscale buyers who want to purchase high-end branded products. Simon is one of the dominant mall operators among the Class-A malls that are known to achieve high sales per square foot. Simon competes with other real estate companies like General Growth Properties (GGP), Taubman Centers (TCO), and Macerich (MAC). Despite its financial strength and vast scale of operations, Simon Property remains vulnerable to a number of risks.
In recent years, in-store sales have been drastically affected by the inability of retail players to keep up with the changing pace of the retail sector. Retail chains like Macy's, Sears and J.C. Penney have already closed hundreds of stores to overcome debt burden. The closure of anchor stores might be perceived as an alarming situation for Simon as Macy's, Sears and J.C. Penney are the top anchors for the REIT. The closure of an anchor store can prove problematic for mall owners as smaller stores usually depend on larger anchor stores to drive foot traffic. However, Simon has continued to post impressive financial results despite the downturn in the retail sector.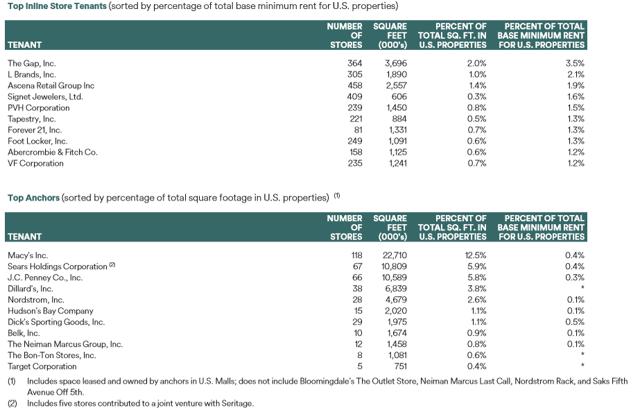 Source: Simon Property Group 4Q 2017 Supplemental
Simon's success streak can be attributed to its ability to combine residential and hospitality properties along with retail spaces. The company's expanse along with its expertise in developing mixed-used properties has proved to be its competitive advantage. Simon's key competency lies in creating entertainment-oriented mall properties where consumers visit to buy goods and products. The stunning Roman architecture of the Forum Shops at Caesar's Palace, the variety of dining options at Roosevelt Fields mall and the fun zone at the King of Prussia mall bear testament to Simon's core ability to recreate mall environments to become popular tourist destinations. Simon's strategy to cope with the changing business environment is primarily driven by following key tactics:
Redevelopment of vacant anchor stores:
In 2017, the company invested more than $630 million on expansion projects for including new anchor stores, big box stores, theatres, health and wellness facilities, athletic resorts, restaurants and upscale speciality retailers, small shops .These projects will be carried out in La Plaza Mall (McAllen, Texas), The Galleria (Houston, Texas) and Southdale Center (Minneapolis, Minnesota). Simon has also opened two new shopping centers, namely The Shops (Fort Worth, Texas) and Norfolk Premium Outlets (Norfolk, Virginia).
Densification
Simon is also focussing on mixed-use projects to create environments that will lead to the convergence of hospitality, residential, retail and office design. The emerging mall environments will see the inclusion of upscale hotels, entertainment zones, dining districts, Class A office buildings, open-air retail, green spaces and multi-family residential projects. Simon's mixed-use projects are being carried out at Phipps Plaza (Atlanta, Georgia), King of Prussia ( Pennsylvania, Philadelphia), Northgate Mall (Seattle, Washington).
Experimentation of new retail concepts
Simon is collaborating with online retailers like Casper to provide them with a platform to test brick-and-mortar stores. Indoor cycling studios, goal-focussed workout studios, blow dry bars and health studios, chef-inspired restaurants and eco-friendly restaurants are some of the new retail concepts that are making their way to Simon's mall properties.
Expansion in international markets
In 2017, Simon continued its foray in international markets by opening Siheung Premium Outlets (South Korea0, Genting Highlands Premium Outlets (Malaysia) and Provence Designer Outlets (France). The company acquired Rosada Designer Outlet (Netherlands) and it is constructing four new outlets in Canada, Mexico, U.K. and Spain.
Until now, Simon has successfully completed 40 redevelopment projects across all of its shopping mall formats. Events and experiences are playing an integral part in driving the company's marketing campaigns. The company has partnered with Disney Junior to co-brand play zones as well as to organize quarterly events for children and parents. It has launched the 'What's New Now' program at premium outlets to promote latest deals and merchandise. The program was extended to Simon's online platform. Simon has also begun to test on-property refuelling services, logistics services and autonomous vehicle-cleaning services for shoppers as well as retailers. The company is also offering reserve parking solutions at various locations to avail parking facility during busy hours.
Simon is increasingly relying on technology to retain customers and to improve customer loyalty. The REIT has launched a Facebook messenger bot that provides useful information throughout the day. Additionally, Simon is providing Snapchat geo-filters to help shoppers add brand identity of the retail locations to their snaps. It has installed a unique functionality in its malls to allow shoppers to search the mall for specific brands or product categories. The company has expanded the VIP Savings Passport and members-only program to online platforms for customer convenience. Interactive digital directory services have been introduced in 57 malls to help shoppers find the fastest route to a retail store.
Simon has begun to focus on on innovative solutions to improve efficiency and to reduce operational costs. Besides testing AI-enabled robots for enhancing security, Simon is collaborating with Current, a General Electric company, to deploy energy efficient solutions like intelligent LED's that will help to optimize the electricity usage. In future, the intelligent systems will be used to direct shoppers to vacant parking areas and to identify traffic congestion. Simon will also be experimenting with electric vehicle charging stations and lighting systems control for providing demand response service. Simon's sustainable initiatives that have helped it to achieve 34% reduction in electricity consumption across its portfolio. The REIT's human resources are the key to sustaining its competitive advantage. The company provides ample growth opportunities, trainings and leadership development programs to retain expertise and encourage employees to take on more responsibilities.
Financial Analysis
Amid slow retail growth, Simon Property Group reported a 2% increase in consolidated revenue for fiscal year 2017. The company delivered a record revenue of $5.539 billion while it achieved a record income of $1.945 billion. The REIT has been operating efficiently across its portfolio of properties as its net operating income (NOI) has grown more than $265 million compared to the last year, which is a 4.5% year-over-year growth. For the same financial year, the REIT's funds from operations (FFO) amounted to $4.021 billion i.e. $11.21 per diluted share. In the last four years, the company's annual FFO has increased by $1 billion and the spin-off of Washington Prime Group has not affected its financials. Simon's FFO per share has grown by 8% during the last three years and by 12% during the last seven years.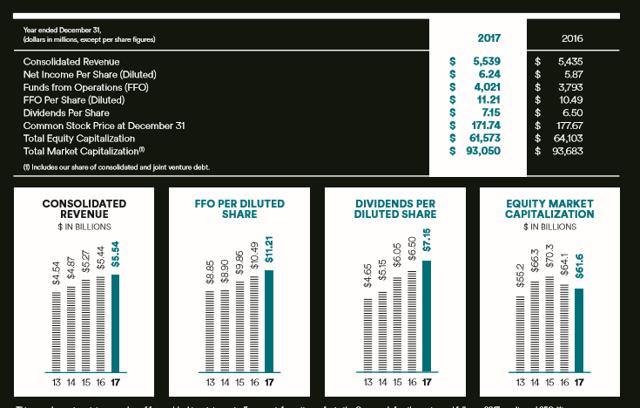 Source: Simon 2017 Annual Report
Over the last seven years, the company's FFO per share growth rate has exceeded the growth rate of all equity REITs by more than 400 basis points. Nearly$3.0 billion of capital was returned to shareholders in the form of dividends and share buybacks. Approximately $2.6 billion was paid to shareholders as dividends. The company paid a dividend of $7.15 per share for 2017 and the amount has increased by 10.0% in 2017-2016. Simon's dividend per share has grown by 12% CAGR over the past five years. The weighted average interest rate of the company's debt has decreased from 4.78% to 3.40% while the maturity term has increased to 6.6 years.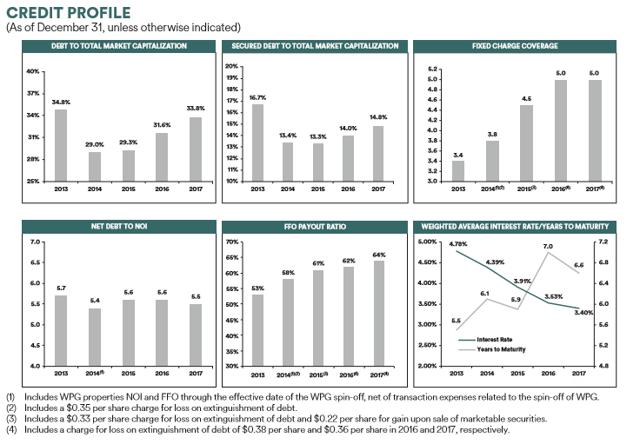 Source: Simon Property Group 4Q 2017 Supplemental
Future Outlook
Simon has already begun to reposition its malls to keep up with the rapidly changing retail environment. Even though it will continue to grow at an annual growth rate of 4-4.5%, the U.S. retail sector is at an inflection point. E-Commerce is not the sole reason for influencing the changes within the retail sector. Retail industry maturity, changing consumer demographics and evolving consumer behaviour are the other key factors that has triggered instability within the retail sector. Contrary to speculations, brick-and-mortar stores will continue to remain relevant as the concept of omnichannel retailing is gaining acceptance. Experts believe that brick-and-mortar stores will be reimagined to deliver a more vibrant experience to 'Millennials' and other young consumer segments who prefer to spend more money on entertainment and dining options. The younger working class also desire to have high-end office spaces that provide food options, fitness facilities and outdoor spaces.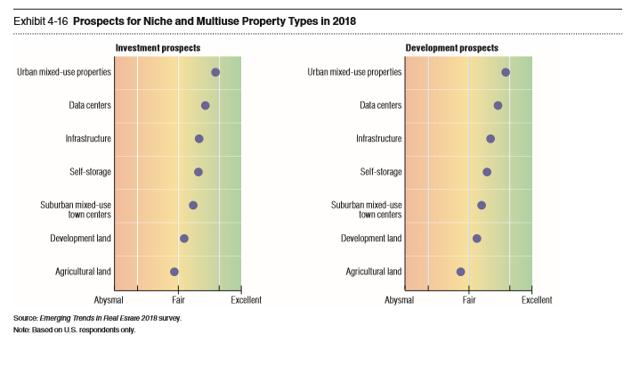 Source: PWC Emerging Trends in Real Estate, United and Canada 2018
Class-A mall owners like Simon Property Group are in a good position to implement creative ideas that focus on 'food, fun and fitness' aspects of consumption. Additionally, there is a growing number of speciality retailers as well as independent and boutique hotels that want to join forces with large malls to deliver an emotionally pleasing shopping experience. Thus, mixed-use redevelopment will be the key strategy that will enable Simon to survive amidst the disruption in the retail industry.
Disclaimer: Please note, this article is meant to identify an idea for further research and analysis and should not be taken as a recommendation to invest. It is intended only to provide information to interested parties. Readers should carefully consider their own investment objectives, risk tolerance, time horizon, tax situation, liquidity needs, and concentration levels, or contact their advisor to determine if any ideas presented here are appropriate for their unique circumstances.
Past performance is not an indicator of future performance.
Investing in any security has risks and readers should ensure they understand these risks before investing.
Real Estate Investment Trusts are subject to decreases in value, adverse economic conditions, overbuilding, competition, fluctuations in rental income, and fluctuations in property taxes and operating expenses.
This post is illustrative and educational and is not a specific offer of products or services.
Information on this blog is not an offer to buy or sell, or a solicitation of any offer to buy or sell the securities mentioned herein, nor is the author compensated by any of the products mentioned.
Information presented is believed to be factual and up-to-date, but we do not guarantee its accuracy and it should not be regarded as a complete analysis of the topics or subjects discussed.
Information presented is not believed to be exhaustive nor are all the risks associated with the topic of each article explicitly mentioned. Readers are cautioned to perform their own analysis or seek the advice of their financial advisor before making any investment decisions based on this information.
Investment decisions should be based on an individual's own goals, time horizon, and tolerance for risk. Nothing in this content should be considered to be legal or tax advice and you are encouraged to consult your own lawyer, accountant, or other advisor before making any financial decision.
All expressions of opinion reflect the judgment of the author, which does not assume any duty to update any of the information
Any positive comments made by others should not be construed as an endorsement of the author's abilities to act as an investment advisor.
Disclosure: I am/we are long SPG, GGP. I wrote this article myself, and it expresses my own opinions. I am not receiving compensation for it. I have no business relationship with any company whose stock is mentioned in this article.