Quality Assets Give This REIT An Armed Defense Against Online Retailers
Earnings Update
Regency Centers Corporation (REG) reported positive results for 2Q 2017 with 3.2% growth in NOI compared to the same period last year. Occupancy remained at 95% while the same property portfolio was 95.9% leased. Small shop leases were 92.1%, a 30bps point increase from prior quarter.
New and renewal leases signed during the quarter resulted in a 9.4% spread. Core FFO was $0.93 per share compared to $0.82 per share for the same period in 2016.
During the quarter, the Company started the development of Mellody Farm, a 252,000 square foot center located in the Chicago metro area with total estimated net development costs of $97.4 million. This center will be co-anchored by Whole Foods Market, Nordstrom Rack, HomeGoods, and REI; and benefit from strong three-mile demographics including average household incomes of $130,000. Anchors are estimated to open in the fourth quarter of 2018.
At quarter end, the Company had 29 properties in development or redevelopment with combined, estimated net development costs of more than $600 million. In-process development projects were a combined 47% funded and 77% leased, and expected to yield an average return of 7.3%.
The company has a very strong balance sheet with Net/EBITDA of 4.5 and interest coverage ratio of 2.2x.
With its focus on high quality assets and grocery-anchors, we think the company is well-positioned to defend itself against eCommerce trends and continue to grow FFO for the foreseeable future. Grocery-anchored properties were 79% and the company's demographic focus is superior to peers, with $106,000 AHHI and 138,000 population within a 3-mile radius. Peers average $86,000 AHHI and 100,340 population.
The company's high-quality assets are also attractive to eTailers looking to establish a brick and mortar presence in premium locations, particularly for their first foray into the space. The company also scores highly on Greenstreet's Trade Area Power (TAP) scores and Corporate Governance score as well as ISS's Score's which are based on over 200 factors.
We are neutral on dividend growth because of the recent acquisition of Equity One and the time it might take to integrate that business.
From a valuation perspective, the company had merger related costs that cause headline FFO to seem to have declined, when in fact, FFO increased 12.5% from the previous year's quarter. From a valuation perspective, Price/FFO is misleading.

Despite what may seem like a lofty valuation, Regency Centers of Corporation arguably has the highest quality shopping center assets in the U.S. The company's recent quarter was confirmation that the grocery-anchored properties are well-defended against online retailers and the higher quality features give this REIT an even wider moat. The FFO shown in 1Q 2017 included an adjustment of $0.50 for merger related costs. If we add that back, the payout ratio drops to 86% and the P/FFO becomes a more reasonable 28 – even if still a bit on the high side. – Hey, if you want quality, you have to pay a premium for it.Investment Thesis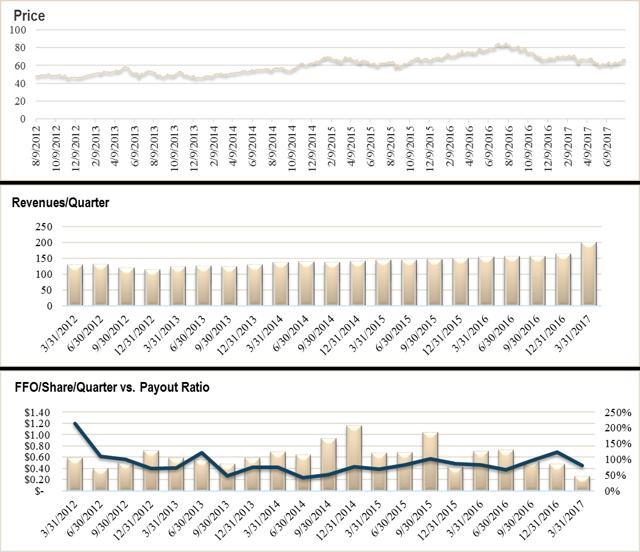 Peer Comparisons
The one strike against Regency is its extremely low dividend yield compared to peers in the shopping center REIT industry. With a yield of 3%, only Federal Realty Trust (FRT) has a lower dividend yield – but FRT sports a 65% payout ratio, slightly lower than REG's adjusted 72% payout ratio.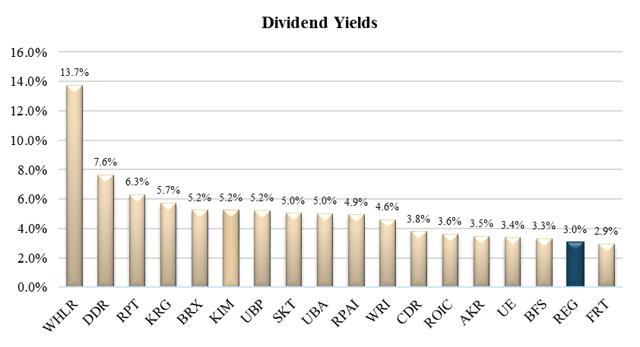 The payout ratio below for REG has been adjusted to reflect Core FFO that was negatively impacted by the Equity One merger related costs. Had we used NAREIT FFO, the payout ratio would have reflected a 109% payout ratio.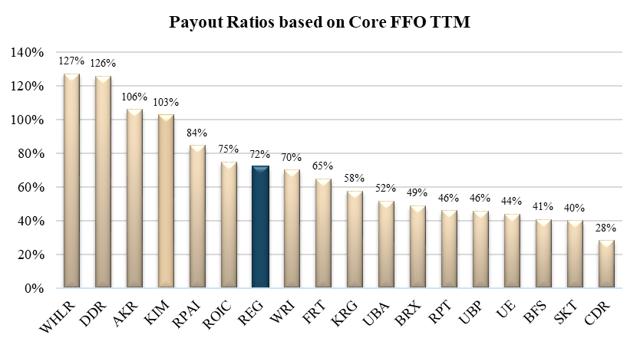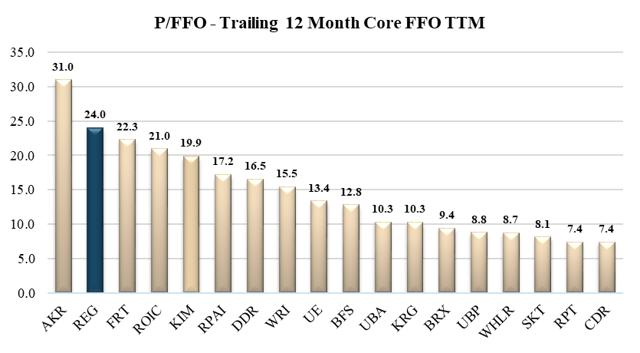 Risks
Like with all other shopping center REITs, eCommerce is a big risk even if the company's properties are positioned defensively and consumers still like to shop for groceries at the store. That could change, however, and we will soon learn more – once Amazon finalizes its purchase of Whole Foods and implements its intended strategy all of our previous assumption about how people shop could be put to the test.
Valuation based on price multiple looks high primarily due to the sharp drop in Q1 2017 FFO due to merger related costs. However, adjusting back the merger costs results in a price/FFO of around 28 – still high relative to peers but not as lofty as the headline number suggested. Core FFO is increasing at low double digit rates but the market could give more credence to unadjusted FFO.
Historical Data
Highlights
Net Debt to EBITDA is on a downward trajectory and interest coverage is consistently above 2x
EBITDA/Interest expense is at a historical high.
EBITDA margins peaked in 2014 and have declined for two consecutive years.Price multiples look stretched based on historical comparisons.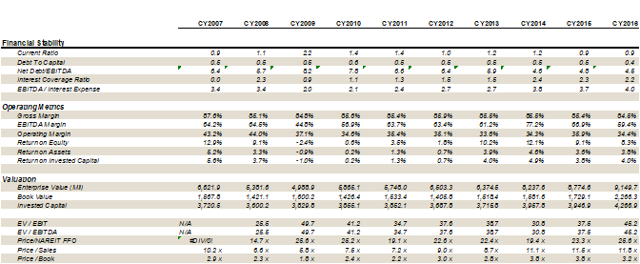 Quarterly Financial Statements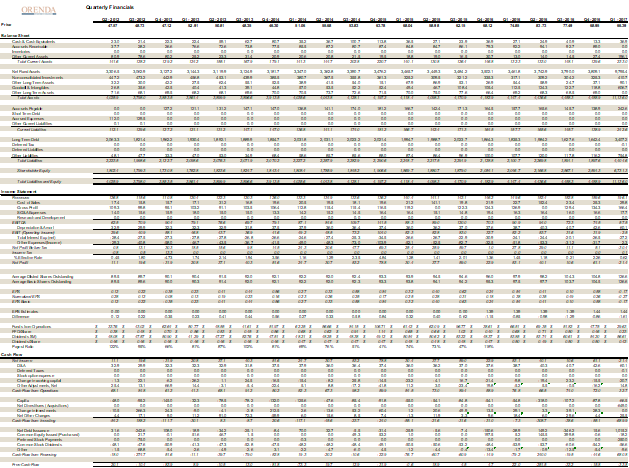 Annual Financial Statements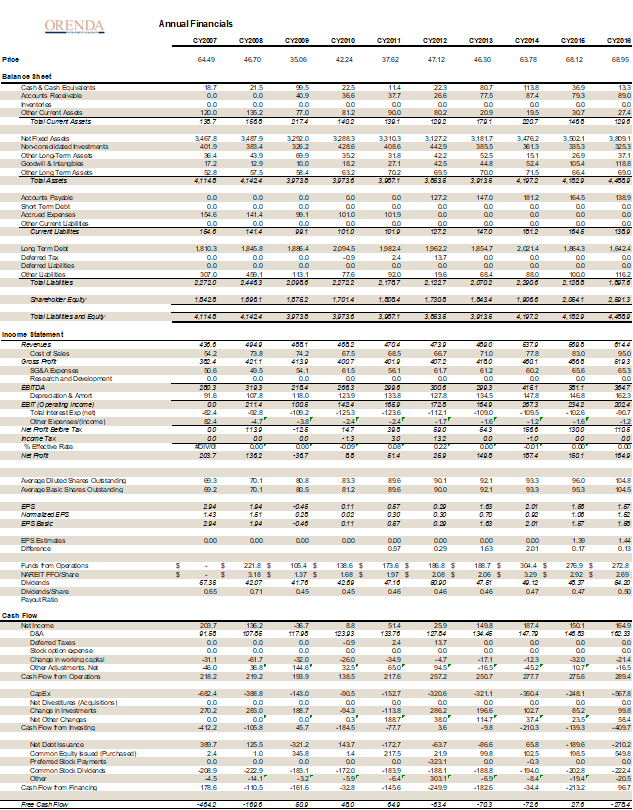 Disclosure: I/we have no positions in any stocks mentioned, but may initiate a long position in REG over the next 72 hours. I wrote this article myself, and it expresses my own opinions. I am not receiving compensation for it. I have no business relationship with any company whose stock is mentioned in this article.