Kimco Realty: High-Yielding Income With Price Appreciation Potential
Real estate investment trusts are a great way for investors to build both long-term wealth as well as generate a sizeable income stream. The dividends that REITs provide are oftentimes substantially higher than the yields that can be generated from regular stocks or investment grade bonds, and at the same time, REITs are not overly cyclical or vulnerable to recessions depending on the specific sectors of real estate.
Kimco Realty (KIM) is one of the real estate investment trusts that offers a high initial dividend yield, sufficient dividend safety, and some potential for dividend growth and share price appreciation as icing on the proverbial cake.
Retail REITs have been under pressure over the last couple of years, and in some cases that is very much justified. With an increase in bankruptcies and store closures, the retail REIT model was, at times, considered to be obsolete. But not all retail REITs should be viewed equally – there are different niches and subindustries and different business models – some of which are more resilient to the dynamics that are challenging retailers and their landlords. Kimco Realty, which is active in the open-air shopping center subindustry, has a vastly better outlook than other companies in the space because of the higher quality of assets it owns and the intentional strategy – started several years ago – to shift into retail spaces that were less sensitive to internet competition.
Company Overview
Kimco Realty is a real estate investment trust that owns and operates open-air shopping centers. The company, which was founded by Martin S. Kimmel in 1973, is headquartered in New Hyde Park, NY. Kimco Realty is trading with a market capitalization of $7.0 billion, which makes Kimco Realty one of the six larger retail REITs in the US, although not the largest one by far. Source: kimcorealty.com
Kimco has made large changes to its portfolio over the last couple of years. The company now owns 437 assets in the United States, roughly half of the asset footprint the company owned in 2010. Asset sales have reduced the gross leasable area significantly over the last couple of years, but the quality of Kimco Realty's assets has improved substantially. Right now, more than 80% of Kimco Realty's properties are placed in what Kimco Realty deems its Core Markets, a group of especially attractive major metro markets.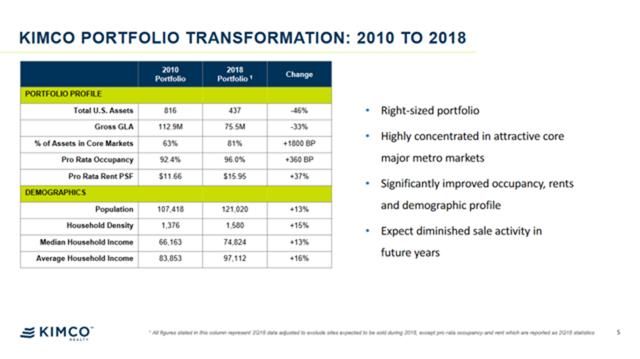 The company believes that these assets will produce above-average results in rents per square foot, the potential for further rent increases, etc. As a result of these changes, the company's rents per square foot and its occupancy rates have increased considerably.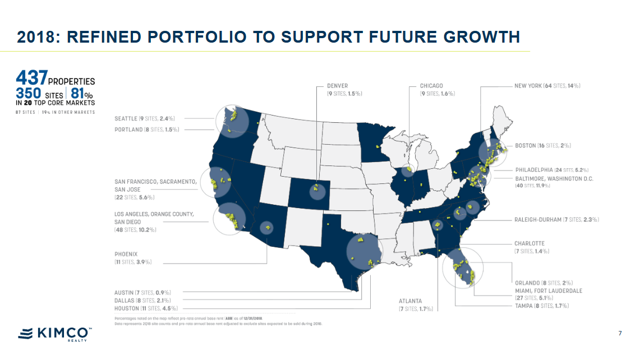 It's remaining properties are concentrated in major metro areas on the East and West Coast, with New York and Los Angeles being the two biggest markets, with 64 sites and 48 sites, respectively.Source: kimcorealty.com
Shopping centers are an attractive subindustry of the wider retail REIT industry
When one thinks of retail REITs, oftentimes the first image that comes to mind is the so-called retail apocalypse. This term describes the downward trajectory for many lower-grade malls across the United States. Occupancy rates and rents per square foot are declining for the weakest, most unattractive malls in the country due to a combination of several factors. The first one of these factors is that online shopping reduces the amount of brick-and-mortar square footage that is needed across the country. Second, retail companies oftentimes focus on the most attractive markets, whereas under-performing stores in less attractive markets get shuttered.
These factors have become a major problem for lower-grade mall operators, but it would not be justified to assume the same for all retail REITs. Some subgroups, such as high-grade mall REITs (e.g. Taubman Centers TCO)), standalone property REITs (e.g. Realty Income (O)) and shopping center REITs (such as Kimco Realty) continue to perform well. Although we do think growth in Realty Income will be less than it has been historically.
The open-air shopping center industry, in which Kimco operates, is a subindustry with a relatively compelling outlook. A large number of sales made in these open-air shopping centers consists of items that are not easily purchased online. Items such as clothes and electronics can easily be bought over the internet, but items such as furniture are primarily bought in brick-and-mortar stores, despite attempts streamline those sales online. We buy furniture online too, but as our recent reluctant purchase suggests, it's not the same as being able to sit on the furniture and get a feel for it. I also don't foresee myself getting a haircut via an online retailer anytime soon.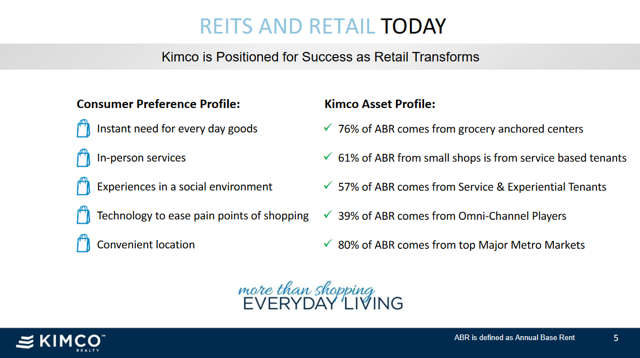 source: kimcorealty.com
Kimco Realty explains that the majority of its shopping centers are grocery-anchored, which bodes well for the traffic performance of these shopping centers in the future. While some consumers are beginning to buy groceries online, most still buy the majority of their groceries from the store. On top of that, a significant amount of sales at Kimco's assets is made by the services industry, which means that a large portion of Kimco's tenants will not face significant online competition.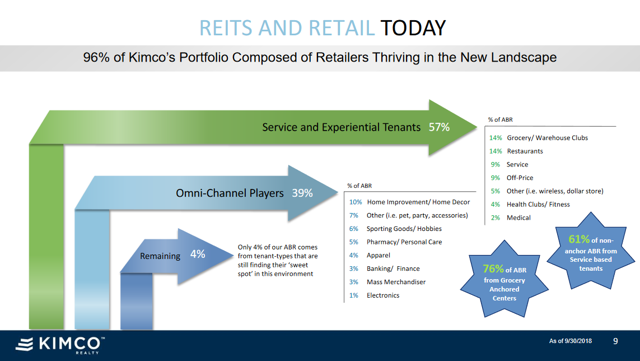 source: kimcorealty.com
This includes companies from the restaurant industry, health clubs and fitness companies, companies in healthcare and other medical fields, and last but not least off-price retailers. The products and services that these companies offer cannot be sold online easily, and in some cases, they can't be sold online at all. This means that a large portion of Kimco Realty's tenant base does not have to worry about e-commerce competition, which, in turn, means that Kimco Realty does not have to worry about e-commerce trends, either. At least not to the extent of other Retail REITs with a greater proportion of tenants with exposure to online competition.
Despite the fact that some retailers are having a hard time and closing down stores, and some even are undergoing bankruptcy, the overall store count across all companies continues to rise, which can be somewhat surprising for those that have been told about the so-called retail apocalypse.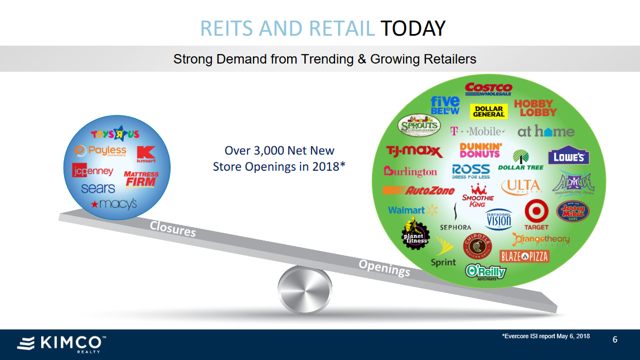 source: kimcorealty.com
Kimco Realty explains that net new store openings during 2018 totaled more than 3,000, despite the fact that some retailers lowered their store count, e.g. Macy's (M), whereas other retailers even went bankrupt, such as Toys'R'Us.
Growth from more service-oriented retailers, restaurants, off-price retailers, and other booming concepts more than offset the store closings by some of the traditional retailers, which include department store companies.
So the retail apocalypse is less of a concern for investors as it relates to Kimco Realty. This is a problem for operators of lower-grade malls, but Kimco should be relatively well insulated from this trend, due to its open-air shopping center focus with strong tenants and it's focus on relatively attractive markets with a high population density and above-average disposable incomes. These factors will lead to ongoing strong demand for retail space by a wide array of retail companies in the market that Kimco Realty serves, which is why occupancy rates and average rents should remain at a high level or even improve further over the coming years.
Kimco Realty's recent results and growth outlook, total return potential
The underlying outlook for Kimco Realty is quite positive, in our opinion. Funds from operations has declined in the last couple of years and while this may sound surprising on the surface, it was primarily due to the previous portfolio transformation strategy of selling some of the company's properties – especially the poor performers – in order to free up cash that can be used to lower the company's debt levels and reinvest in higher quality assets.
This is a conservative move that weakens Kimco Realty's profitability in the short term, but at the same time, the lower debt levels and focus on higher quality assets makes Kimco a lower-risk investment with greater upside potential. As interest rates have been rising throughout the last couple of quarters, a declining leverage ratio could turn into a major advantage over the coming years if the trend of rising interest rates persists.
Kimco Realty has produced funds from operations of $1.12 on a per-share basis during Q1-Q3, which equates to $1.49 on an annualized basis. It also guided for a slightly lower funds from operations per share number of ~$1.44 during the most recent earnings call, which reflects additional asset disposals during the last couple of quarters. It is, however, likely that it will be able to grow its funds from operations per share going forward as the headwind of asset dispositions fades.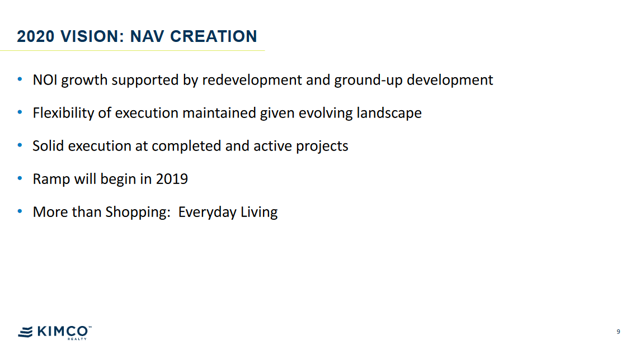 Kimco has also been investing money into redeveloping existing retail space in order to generate higher rents, and additionally, it has invested money into new developments as well. Management states that these investments will start to pay off during the coming quarters in what the company has termed 2020 Vision.source: kimcorealty.com
Kimco is not a high-growth company, and investors shouldn't expect it to become a high-growth company. In fact, only certain types of REIT sub-sectors can be considered 'high growth'. However, through a combination of earnings/FFO growth and its high dividend yield, Kimco should be able to produce compelling total returns over the coming years.
The stock currently trades for roughly 11 times 2018's funds from operations, which roughly 20% below its longer term P/FFO multiple of 15.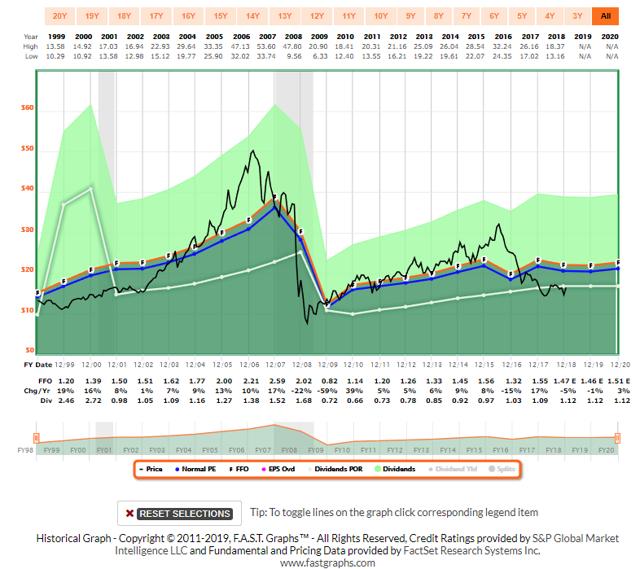 We believe there will be some multiple expansion as the market recognizes the progress of the company's transformation strategy. But even when we exclude this potential tailwind, Kimco Realty could still produce total returns of ~10% a year going forward from higher FFO.
The company's dividend of $0.28 per share per quarter, or $1.12 on an annual basis, creates a dividend yield of 6.8% with shares trading for $16.40. With a steady dividend, shares would only have to rise by just above 3% a year for it to produce an annual total return of 10%. Multiple expansion would only add to that total.
Our Take
Many investors worry about retail REITs, but not all of these retail REITs are impacted by the retail apocalypse to the same extent. Kimco is active in a relatively attractive niche of the retail REIT industry, and its portfolio is of above-average quality.
The company's focus on the most attractive major markets, its strong tenant base, which is diversified across industries, and its successful debt reduction, position the company well for the future.
Investors get paid a dividend that yields close to 7% while they wait for the company's redevelopments and new property investments to start to pay off. At that point, investors will likely see share price appreciation on top of the high dividend yield. This combination could produce compelling total returns over the coming years, which makes Kimco look like a bargain. Due to the low valuation and the high dividend yield downside risk seems limited, which could be a benefit during times when equity markets can be quite turbulent.
How to Get Started With REITs, Opportunities, & Income
To get started using the REITs, Opportunities & Income premium service, start with the Getting Started and Welcome Letter.
You will also find the ROI Stock Lists, ROI Portfolios, and the online version of the Getting Started Letter under the tools section. In addition to the Portfolio Tracker.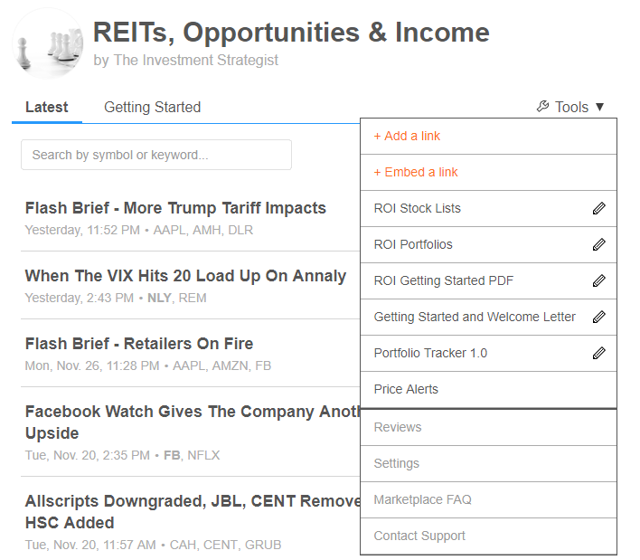 Lastly, don't forget to check out the Investment Questionnaire under the Tools menu
Disclosure: I am/we are long KIM. I wrote this article myself, and it expresses my own opinions. I am not receiving compensation for it. I have no business relationship with any company whose stock is mentioned in this article.
Additional disclosure: Disclaimer: This article is meant to identify an idea for further research and analysis and should not be taken as a recommendation to invest. It does not provide individualized advice or recommendations for any specific reader. Also note that we may not cover all relevant risks related to the ideas presented in this article. Readers should conduct their own due diligence and carefully consider their own investment objectives, risk tolerance, time horizon, tax situation, liquidity needs, and concentration levels, or contact their advisor to determine if any ideas presented here are appropriate for their unique circumstances. Long: BXP, CIO, MNR, PLD, KIM, RPAI, SPG, TCO, STOR, O, IRT, APTS, AVB, UMH, AMH, AHT, PSA, SELF, GMRE, HCP, SBRA, PCH, AMT, CCI, SBAC, COR, QTS, IIPR, NLY, BXMT, NOBL, EEMV, EFL, JPS, LDP, HYLS, MORL, REM, RINF, SHY, SPY, TBB, TVC, EEM, HFQIX, FFRHX, DELNX, VOO, EFAV, EFA, SMMV, VO