Earnings Review O, MAC
Realty Income beats FFO estimates by $0.02 while revenues increase 10%.
New CEO Sumit Roy is tasked with steering a behemoth that is practically on cruise control. AFFO increased 5.2% to $0.81 per share while the company invested $608 million in 238 new properties. Meanwhile, S&P raised the company's credit rating to A- with a stable outlook. Occupancy levels at 98.8% leave very little upside potential except for new acquisitions and rent escalators.
Rent escalators have been trending at about 1% on same store rents so the company may have to rely on re-leasing and new developments if inflation gains traction.
Dividend increased 3.9% compared to Q3 2017.
AFFO guidance increased on the low end from $3.16 to $3.21, to $3.18 to $3.21 for FY 2018. That would be a growth rate of 4%-5%.
Valuation
O looks a bit pricey after briefly flirting with $55 the stock has recovered to $60 in the last month, along with the recovery in REITs broadly. The EV/EBITDA multiple hasn't been this high since early 2017 when the stock was trading at just above $60. It then started a choppy but noteworthy decline to under $50 earlier this year.
On a P/AFFO multiple, the valuation looks less ominous but still reflects limited upside absent some major catalyst that we don't know about. At a P/AFFO of 19.3, the stock trades slightly above its long-term average of 18.6 and AFFO is expected to grow just 3% in 2019.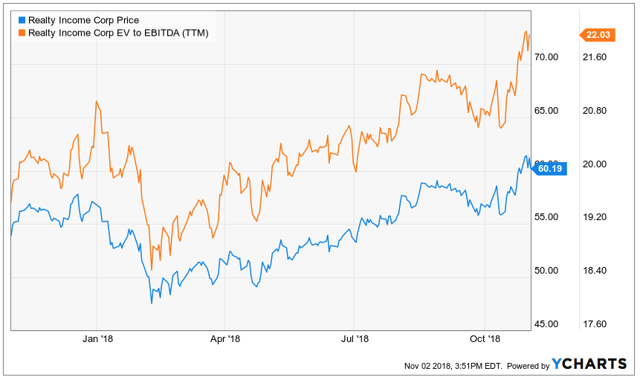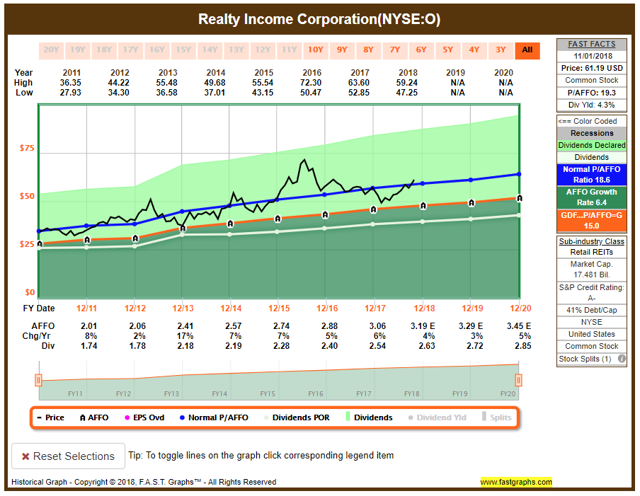 Our Take
Realty Income has been the darling of income investor for year, providing both stable AND growing dividends. Despite its spectacular record of generating positive returns for investor, we see increasing challenges to continue to grow at the same levels. The portfolio is massive and still growing. It is expected to invest another $1.5 billion in 2018 and by our calculations, this size of investment will be not suffice to keep dividends growing well into the future.
We still like the consistency of the dividend and the company's financial stability, but the law of diminishing returns is on the horizon for O barring any dramatic moves – a spin off of some kind? I don't know but in an article published last month I shed light on the level of investments needed to keep this juggernaut going. Hint: It's a big number.
Macerich (MAC)
Revenues declined but beat consensus by $9 Million.
If you're looking for a premium mall, look no further. MAC's annual sales per square foot are $707. For anyone keeping score, that's higher than mall darling Simon Property Group (SPG). Re-leasing spreads were up 10.8% and occupancy was 95%. So much for the Amazon threat.
Dividends were $0.74 for the quarter, up from $0.71 in the same period last year.
Valuation
After a sharp decline, MAC is trading at an EV/EBITDA multiple of 20. We didn't see any reason for such a big drop and had we not already held a considerable amount in the portfolio, we would have invested more. It formed a joint venture with Simon to develop a state of the art outlet center in Los Angeles and the stock tanks while Simon's appreciates? It didn't make much sense.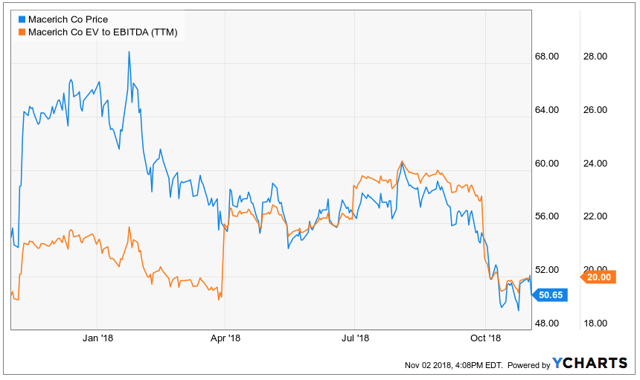 The stock is cheap based on P/AFFO multiple as well, with a current multiple of 15.5 compared to a LT average of 18.7.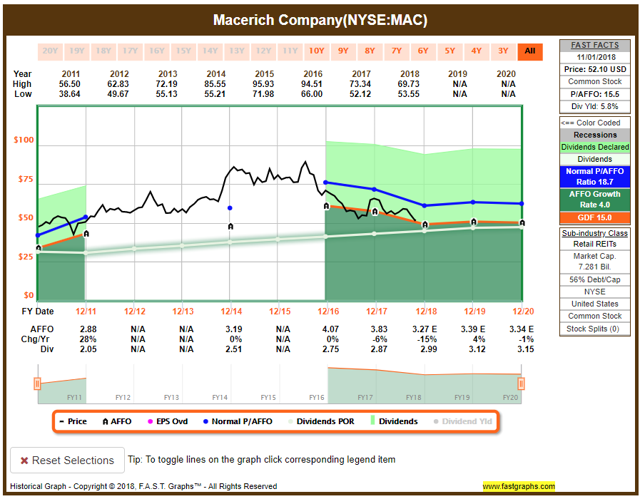 Our Take
Amid deal speculation and Third Point's disclosed stake in the company, the stock price has been on a bit of a roller coaster over the past year. Deal or no deal, the company narrowed FFO guidance for 2018 to $3.82 to $3.87 but analyst consensus is $3.78. We believe analysts might be discounting higher costs related to activism which the company breaks out in its 8-K. A positive surprise in Q4 could boost the stock and the recent earnings announcement confirms that the business is doing just fine. Growth in retail sales and rental rates leading into the 4th quarter could garner the momentum the company predicts will get them above consensus.
How to Get Started With REITs, Opportunities, & Income
To get started using the REITs, Opportunities & Income premium service, start with the Getting Started and Welcome Letter.
You will also find the ROI Stock Lists, ROI Portfolios, and the online version of the Getting Started Letter under the tools section.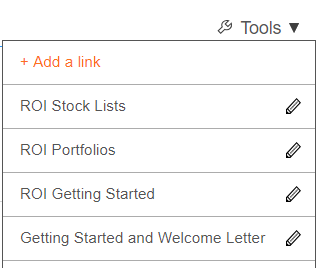 Disclaimer: This article is meant to identify an idea for further research and analysis and should not be taken as a recommendation to invest. It does not provide individualized advice or recommendations for any specific reader. Also note that we may not cover all relevant risks related to the ideas presented in this article. Readers should conduct their own due diligence and carefully consider their own investment objectives, risk tolerance, time horizon, tax situation, liquidity needs, and concentration levels, or contact their advisor to determine if any ideas presented here are appropriate for their unique circumstances.
Disclosure: I am/we are long O, SPG, MAC. I wrote this article myself, and it expresses my own opinions. I am not receiving compensation for it. I have no business relationship with any company whose stock is mentioned in this article.