Crown Castle Is Building A Moat But Valuation Is Lofty
The Data Tidal Wave
Predictions of mobile data demand growth vary, and we mention other sources in an article on Infrastructure REITs where we cover several of the underlying drivers we will reiterate here. A great example of where data usage is going is evident in the fact that gigabytes now sound like petty nibbles that just a few years ago we were paying premium prices for. The metrics used now are zettabytes and exabytes, and soon will be yottabytes. (no relation to the Star Wars character)
With higher resolution cameras, two-way video, games, music, streaming movies, and let's not forget, we still do chat on our phones once in a while – data traffic is expected to reach 5.6 exabytes per month in 2021 and smartphone data usage will exceed 20GB per month by 2022 according to Ericsson.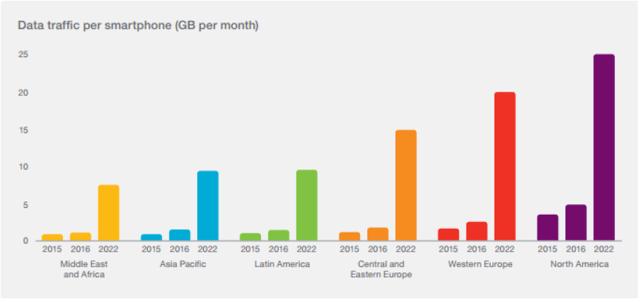 Source: Ericsson
Mobile carriers are migrating to 4G/LTE and using Wi-Fi to offload data from the macro network onto the more localized cells. The network to transmit data is itself becoming larger and more complex. The system now consists of towers, small cells, large cells, and fiber, to name just a few components. While American Tower (AMT) has been focused on growing its tower assets both in the US and internationally, Crown Castle International (CCI) has been pushing into small cell technology.
Small Cells
Small cells are smaller version of the macro tower but are essentially 1/10 th the overall size of the macro site and can be deployed much faster. Small cells won't lead to tower obsolescence. In fact, they work hand in hand to deliver data to consumers everywhere we go and 24 hours a day.

As we move from place to place or drive along in our cars, the data we are receiving is probably bouncing from small cell to small cell – but it was handed over from a macrocell or tower.

Deploying small cells isn't an easy task despite the much smaller size and the apparent ability to put them just about anywhere. There are regulatory hurdles for the placement of cells in certain locations and oftentimes a new small cell installation needs to be approved not only by a homeowners association, for example, but by a municipality.
Small cell networks can also be more costly to maintain because of the number of sites that need to be monitored and maintained. They can be placed on the sides of buildings, poles, street furniture, airports, schools, and inside offices. But the very same flexibility they have of being installed anywhere means that there are many more locations that need to be maintained.
Finally, small cells require 5G technology to reach their full potential and carriers are still spending a majority of their capital expenditures on 4G.
Our Take
Crown Castle is trying to corner the market on small cell technology and be the go-to provider for 5G network densification. That is a great strategy but we think the strategy will take longer to play out than riding the 4G wave a bit longer. When 5G does roll out, CCI will be well positioned so we did add a position to our portfolio. We want to be there early and will probably continue to build it, particularly if we see a pullback from current prices.
As the low-cost provider in deploying small cells, the company positions itself as a valuable partner even in situations where carriers may try to implement small cells themselves. The biggest challenge at this stage is not competition but the difficulties of dealing with the regulatory environment for small cell deployment. Conversations are now with municipalities and cities not just homeowners' associations. The company realizes there must be a balance between the services consumers want to access through technology and the amount of infrastructure in their neighborhood.
Most of the growth in AFFO for 2017 was attributable to acquisitions, changes in sustained capex and changes in interest expense. With the acquisition of Lighthouse, the company is assuming it to be a pure-growth play. That is, there were no cost saving assumptions built into the underwriting of the transaction so if any do occur, it would be purely coincidental.

The company's recent announcement that it would boost the dividend by 15 to 20 cents per share was welcome news. That raises the dividend growth rate by 100bps to 7%-8%.

Financial Stability
CCI has a strong balance sheet and with today's announcement of an increase and maturity extension of its revolving credit facility, the company is well-positioned for additional investments or acquisitions. The new credit facility was increased by $1 billion to $3.5 billion and the maturity was extended to August 29 th, 2022. At the moment, the company has all of the available facility at its disposal.
Net debt to EBITDA continues on a downward trend and currently sits below 6 times – while EBITDA/Interest expense coverage has improved to over 4. Meanwhile, despite gross margins declining from 70% to 63%, EBITDA margin has remained above 50%. We are watchful of deteriorating operating margins, which are hovering around 24% – a full 10% lower than they were in 2012.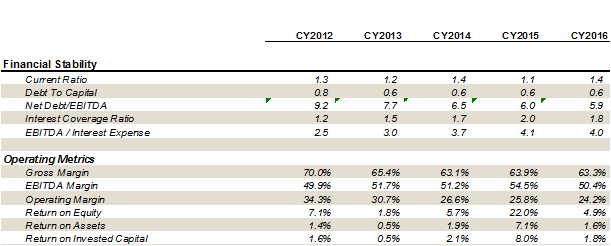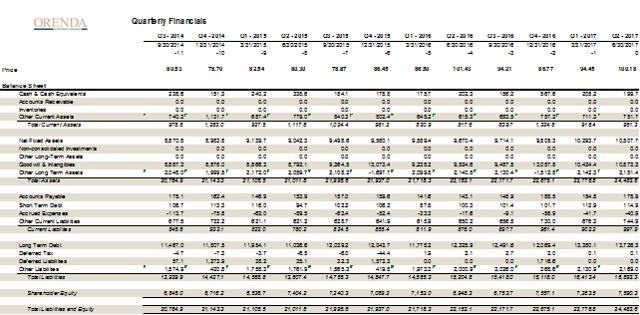 Peer Comparisons
Crown Castle pays a decent dividend yield of 3.5%, about twice as high as closest rival American Tower. That said, we believe upside is highly dependent on acquisitions. Therefore, we are a bit skeptical on the dividend growth targets management has set and would be pleasantly surprised with 7-8% dividend growth.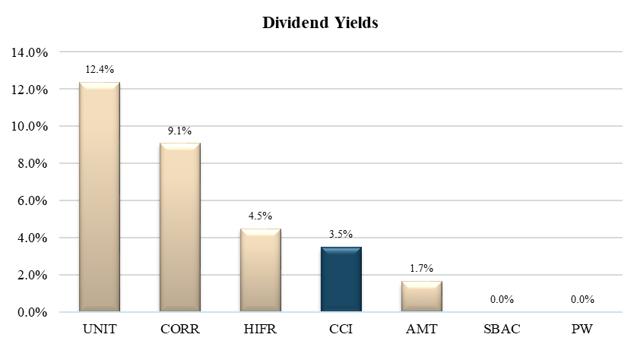 Part of the reason we think dividend growth may disappoint is because with a payout ratio of 82% of FFO, it doesn't leave much room for dividend boosts. Larger competitor, American Tower (AMT) has a low dividend yield of 1.7% but at a payout ratio of 33%, can essentially match CCI's dividend yield while still keeping a payout ratio of less than 70%. We hold the stock so we hope we are wrong on this one.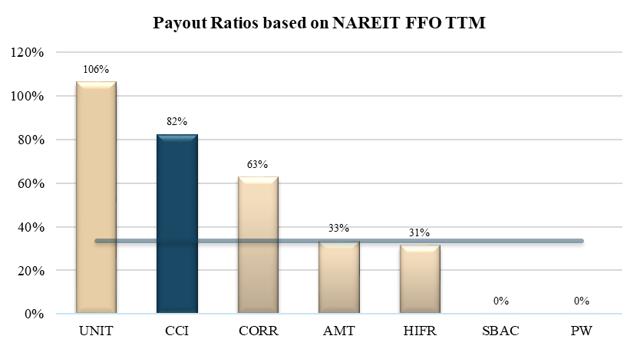 We do think valuatios are a bit lofty at 23.5x FFO despite being one of the two top Infrastructure REITs in the sector. Only SBAC has a higher P/FFO ratio and it doesn't have a full-year of REIT status yet so consider it having an asterisk next to its name.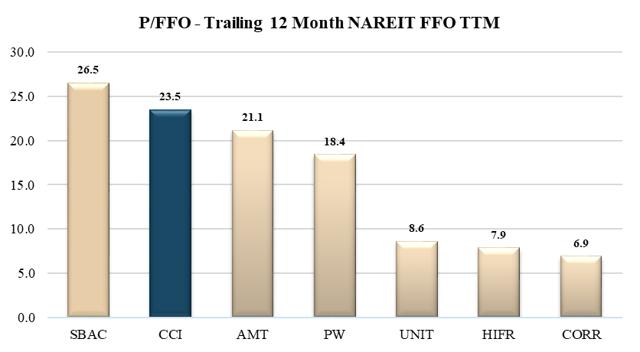 Risks
As we mentioned earlier, CCI is betting on 5G to push small cell technology to the forefront where it believes most of the investment in capex will go. Whether this means it is conceding the Macro Cell/Tower business to American Tower, we don't really know. First-mover advantage can provide great benefits but it comes at great risk and this story is yet to play out fully. Valuations are lofty which gives us pause to add to our position at this level. Any negative news is likely to cause a strong pullback from skittish investors already concerned about a broad market pullback. Focus on US could potentially cause the company to miss out on some huge opportunities in international markets. Growth overseas in places like China and India is faster than in the US and competitor American Tower is taking full advantage of that. The Bottom Line
We like Crown Castle for its pure-play focus on the US market and its long-term vision of the growth potential for 5G. That said, it is our second favorite company in the sector precisely for the same reasons that we like it. We believe there are great opportunities NOW in the international markets, which American Tower is exploiting and Crown Castle is not. That's not to say one strategy is better than the other but there is the issue of timing. While Crown Castle cements itself as the small cell leader, American Tower is reaping the benefits of current international growth. In a few years, it may be difficult for American Tower to penetrate and gain market share from CCI in the small cell space, but we are tabling that concern down the line a year or two.
We own both companies in the REIT portfolio with an overweight to American Tower. In fact, AMT just breached our 8% limit so we will be paring that back a bit. CCI has current allocation of 5% and we are overweight to Infrastructure REITs in general, which also includes a position in Uniti (UNIT).
For the moment, we will not be adding to our position at these valuation levels, which on a P/FFO basis, is two standard deviations above the approximate three-year average. We consider the stock to be a strong hold and will consider adding only after a considerable pullback.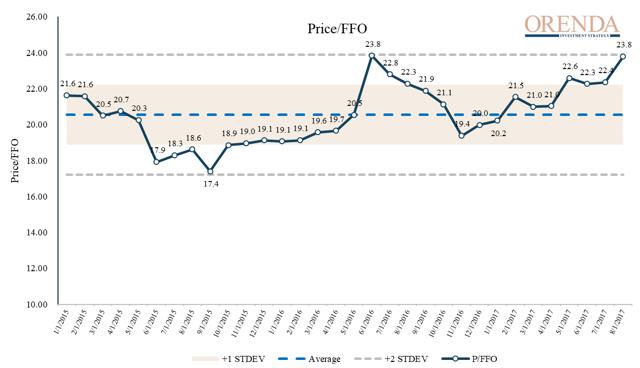 Disclaimer: Please note, this article is meant to identify an idea for further research and analysis and should not be taken as a recommendation to invest. It is intended only to provide information to interested parties. Readers should carefully consider their own investment objectives, risk tolerance, time horizon, tax situation, liquidity needs, and concentration levels, or contact their advisor to determine if any ideas presented here are appropriate for their unique circumstances.
Past performance is not an indicator of future performance.
This post is illustrative and educational and is not a specific offer of products or services.
Information on this blog is not an offer to buy or sell, or a solicitation of any offer to buy or sell the securities mentioned herein.
Information presented is believed to be factual and up-to-date, but we do not guarantee its accuracy and it should not be regarded as a complete analysis of the subjects discussed.
All expressions of opinion reflect the judgment of the authors as of the date of publication and are subject to change.
Any positive comments made by others should not be construed as an endorsement of my abilities to act as an investment advisor.
Disclosure: I am/we are long AMT, CCI, UNIT. I wrote this article myself, and it expresses my own opinions. I am not receiving compensation for it. I have no business relationship with any company whose stock is mentioned in this article.