American Tower: It's A Growth Stock In REIT Clothing
AMT_-_Institutional_Report_-_08092017.pdf
American Tower (AMT) generated another quarter of strong results posting double digit growth across key metrics. Consolidated Organic Tenant Billings Growth accelerated to 8.6%. and the company continued to delever naturally to 4.6 times net debt to annualized adjusted EBITDA.
The common stock dividend was increased by about 22% and with the resumption of the share purchase program during the quarter, it bought back more than $400 million of stock so far this year. The current payout ratio is just 35% so a dividend boost is likely to be combined with share buybacks. Additional dividend increases or share buybacks translates into lots of potential cash returned to shareholders.
The 2017 outlook improved across the board with property revenue forecast to be 1.6% higher than previously anticipated, Adjusted EBITDA was adjusted higher by 1.8%, and the consolidated AFFO guidance was increased by 2%.
Another tailwind for the company is positive foreign-exchange rate fluctuations resulting in a $73 million impact relative to the prior outlook.
In the intermediate term, aside from potential catalysts such as the 600-megahertz deployment, management expects tenants to increasingly rely on densifying their networks to support rising mobile data usage, given most available spectrum assets have already been auctioned and given spectral efficiency within 4G is already very high. Looking even further out, the Internet of Things and other emerging technologies may very well provide additional upside for our U.S. Tower business. Carriers are spending $30 billion per year on 4G and soon to be 5G networks as mobile data usage grows at 30%+.
The core of cash flow is still in the US but growth internationally is higher – particularly in places like Latam, where it was 11.2%. Mexico was a big driver of that growth with 12% growth and more upside potential as advanced headsets are driving data demand.
In India, mobile growth is at 80% and while consolidation could result in churn in the short-term, it should lead to rapid deployment of 4G – leading to increasing use of mobile data.
At its current size, management predicts that 80% of new revenue flows to operating profit because of its ability to leverage its scale. It is also looking at ways to use towers and the land around them to create additional revenue streams.

Investment Thesis
If there is one way to play the growth of mobile data usage or the I nternet of Things via real estate, this is it. None of those things are possible without the ability to transmit large amounts of data across vast distances at a very rapid rate. Even as carriers consolidate and integrate networks that get rid of redundancies, the level of mobile data demand is so strong that carriers still need to add additional equipment to deliver their signals to consumers.
The average U.S. smartphone user now consumes more than 4.4 gigabytes of mobile data per month, up over 400% from just three years ago and it is projected to reach 14 gigabytes per month by 2020. AMT is well-positioned to be on the receiving end of additional capex investments required by carriers to transmit and deliver their data.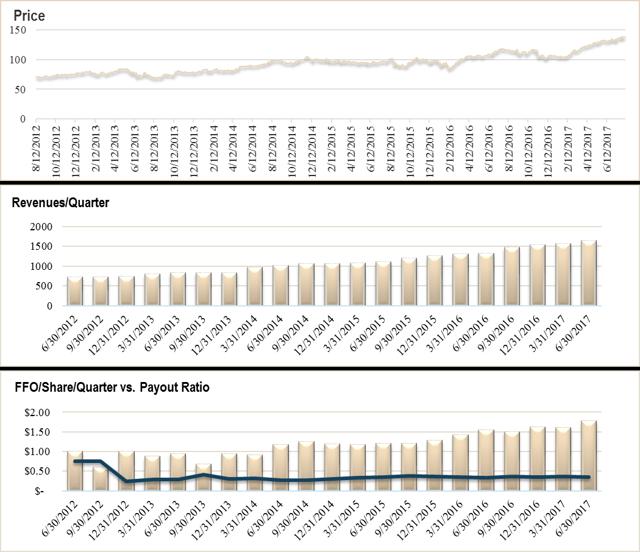 Peer Comparisons
American Tower is not a big dividend payor. It is only paying a 1.7% dividend yield and while part of the reason for that has been the solid price gains in the stock recently, it lags considerably behind peers in the infrastructure space – even its closest competitor Crown Castle International (CCI), which sports a 3.7% dividend yield.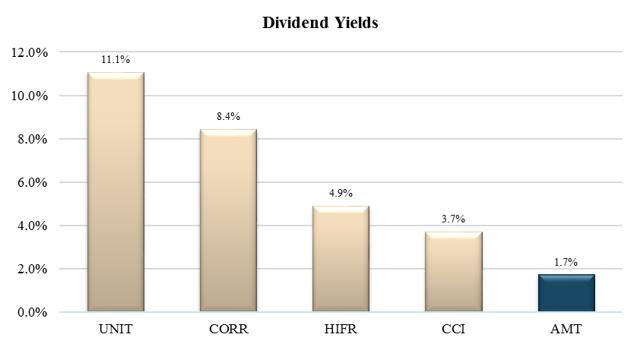 That being said, AMT's payout ratio is low enough that management can practically double its dividend and still be comfortably below the payout ratio for CCI. As we mention in the summary, however, we believe cash will be returned to shareholders both via share buybacks and a dividend increase, but a dividend increase that will probably still keep the payout ratio on the low end.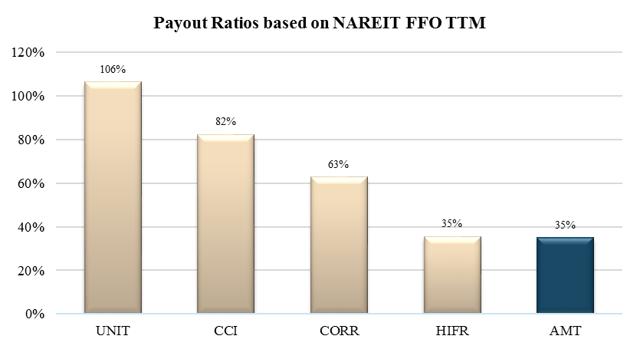 American Tower is trading at 21.5x FFO, which is in line with its long-term average of 21.1x. In fact, in our opinion, it should be trading at a premium to CCI based on its more globally diversified assets/exposure, lower payout ratio, and potential dividend growth – not to mention the aggressive share buybacks expected.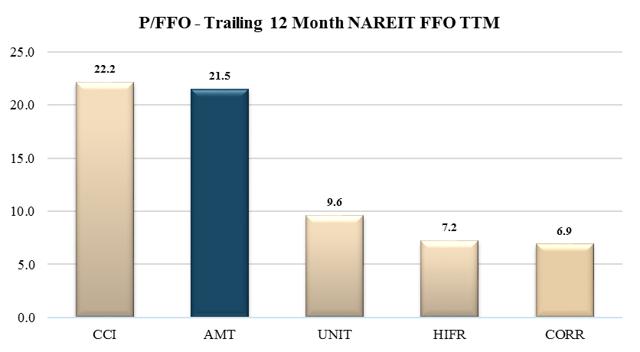 Risks
Expectations are high that mobile data usage will continue apace. Even if growth remains robust, any indication that it may fall short of expectations could weigh on the stock. In addition, AMT relies on capex spending by carriers. Let's face it, the telecom industry is going through its challenges, with the costs of plans being blamed for the lack of inflationary traction. There might be a level of price at which it is no longer makes economic sense for carriers to invest.
India is also going through a consolidation in the industry. In the long-run, it should benefit companies like AMT, but lots can change in the long-term. In the short-term, however, the challenges are steep, with consolidation likely to lead to elimination of redundancies – translation – carriers won't need double the equipment anymore and are likely to pare back.
Historical Data
Highlights
Financial stability metrics are all stable and well within the historical ranges.
Margins have compressed over the last 8 years but are still decent. Gross margins reached as high as 76% in 2010 and are now at 69% – something to watch.
Operating margin, which management now feels is highly leveraged to sales, was 32% in 2016 but popped back up to 36.1% in the most recent quarter.
Cash is king and the company generates lots of it. In 2016, free cash flow was $2 billion and through two quarters in 2017, it has generated free cash flow of $1.1 billion.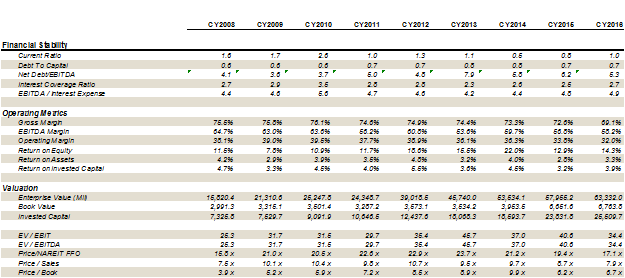 Quarterly Financial Statements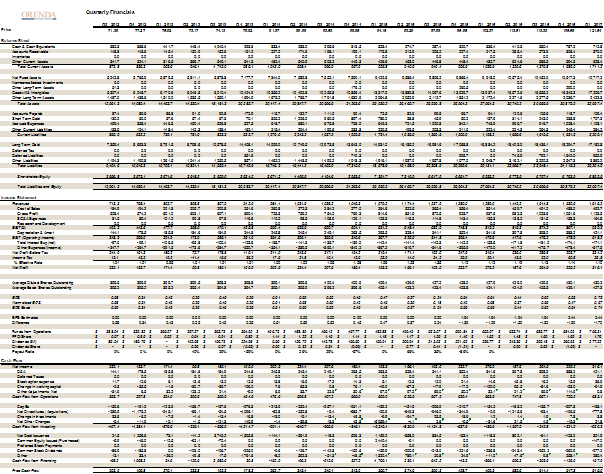 Annual Financial Statements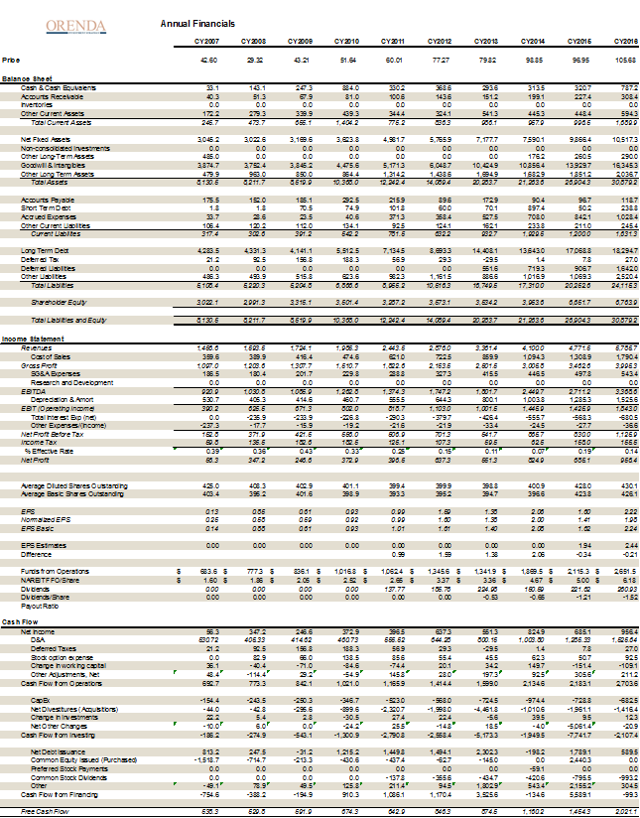 Disclaimer: Please note, this article is meant to identify an idea for further research and analysis and should not be taken as a recommendation to invest. It is intended only to provide information to interested parties. Readers should carefully consider their own investment objectives, risk tolerance, time horizon, tax situation, liquidity needs, and concentration levels, or contact their advisor to determine if any ideas presented here are appropriate for their unique circumstances.
Past performance is not an indicator of future performance.
This post is illustrative and educational and is not a specific offer of products or services.
Information on this blog is not an offer to buy or sell, or a solicitation of any offer to buy or sell the securities mentioned herein.
Information presented is believed to be factual and up-to-date, but we do not guarantee its accuracy and it should not be regarded as a complete analysis of the subjects discussed.
All expressions of opinion reflect the judgment of the authors as of the date of publication and are subject to change.
Any positive comments made by others should not be construed as an endorsement of my abilities to act as an investment advisor.
Disclosure: I am/we are long AMT, CCI. I wrote this article myself, and it expresses my own opinions. I am not receiving compensation for it. I have no business relationship with any company whose stock is mentioned in this article.